Welcome to the Website of St Joseph & St Catherine of Siena
Welcome to the website for St Catherine and St Joseph parishes, in Lisbon and Woodsville, NH! We are glad that you found us! If you are new to the area or visiting, we hope that our website will serve to give you all the information you need to come and worship with us. If you've been away from the faith for some time, we hope that you will find a warm and welcoming community at our parishes. At St Joseph's and St Catherine's, we are committed to truly living out the fullness of our beautiful and life-giving Catholic faith. This is done primarily through the Word and Sacraments, through our study and prayer, and through the interactions of our people with one another.
We are two rural community parishes which means we really become a big family. We are blessed to have a good representation of all ages and walks of life between our two communities. It is not unusual to see members banding together to help someone in a time of difficulty. In these varied and small ways we seek to image Jesus Christ and we seek to live out our call to be His disciples. If you are in the area, come and join us at mass, or adoration, or one of the talks or classes given. Please be sure to introduce yourself.
           WEEKDAY MASS SCHEDULE, October 21, 2019 – October 26, 2019
Monday,  – October 21 – 9am @ St Joseph's – Repose of the Soul of "Boleslaw" Bill Giero by the Giero Family
Tuesday, October 22 – No Mass
Wednesday, October 23 – 5pm @ St. Joseph's – In memory of Steven Aliberti by Linda Aliberti
Thursday, October 24 – 9am @ St. Catherine's – All Souls
Friday, October 25 – 9am @ St. Joseph's – All Souls
Saturday October 26 – 9am @ St. Joseph's – All Souls
"Please see the Bulletin about "Pro-Life ALERT"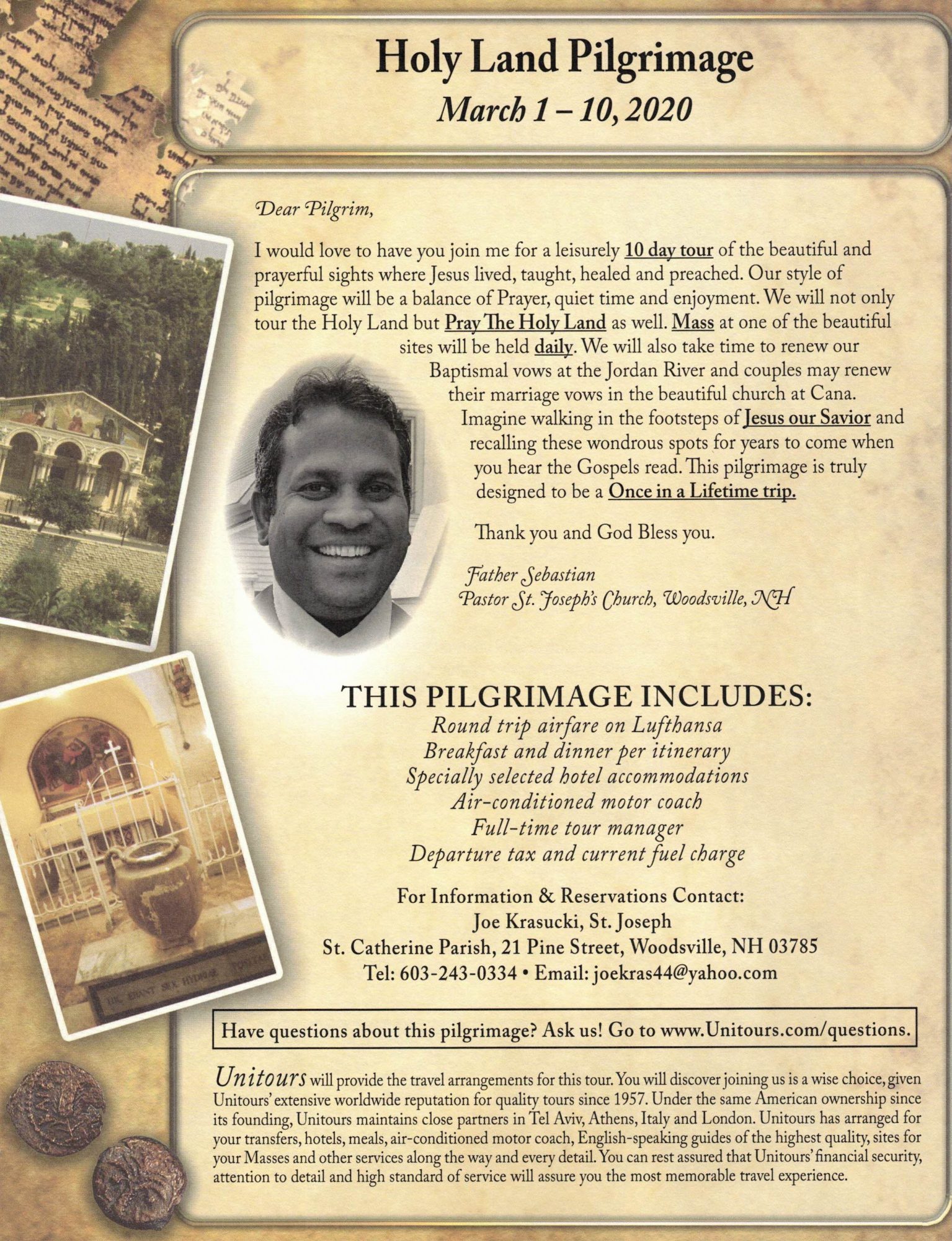 Pilgrimage to the Holy Land with Fr. Sebastian, Pastor St. Joseph & St. Catherine Church, Woodsville, NH
March 1 – March 10, 2020
Visit: Jerusalem, Bethlehem, Nazareth, Tiberius, Dead Sea, Jordan River, Emmaus, Mt. Tabor, Calvary, & much more.
Price: $3799 includes Airfare, Hotels, Transfers, Fees, Taxes, Breakfast & Dinner, Professional Guide, Tour Bus, Travel Ins. Available
Email: stjoseph_church@yahoo.com or joekras44@yahoo.com or phone Joe Krasucki @ 603-243-0334
Announcements
 2019-2020 Offertory Enveleopes have arrived and are in the back of the church. Please come and pick up your box.
St. Joseph's Church is looking for a Substitute Religious Ed Teacher as well as a Long Term Teacher. Please contact Mary Cataldo to learn more: 603-787-6672.
Our Lady of Fatima traveling statue: Please call Mary Cataldo if you would like to have her in your home for a few weeks. Tel 603-787-6672
Check out the Blog & more information for Religious Education! Click Here
Pro-Life Alert
Any woman who is pregnant and in need can turn for help to the Pro-Life Movement. She never has to feel that abortion is the only option. People anywhere in the country can find assistance @ the following numbers.
Project Rachel: for Counseling & Post Abortion Help: 1-800-593-2273
Option Line/Heartbeat International: 1-800-712-HELP & you can Chat & Text @ www.OptionLine.org
Birthright: 1-800-550-4900
Crisis Pregnancy Help Line: 1-888-4-OPTIONS
National Life Center: 1-800-848-LOVE
Local Crisis Pregnancy Centers
Pathways Pregnancy Care Center: 603-444-3991, Littleton, NH
St. Gianna's Place: 603-521-8440, Hudson, NH stgiannasplace.org
Futures Pregnancy Care – 70 Church Street, Lyndonville, VT: 802-787-6672
Please keep these contact numbers close at hand at all times.

NO PARKING IN FRONT OF THE CHURCH RAMP. IT IS A FIRE LANE
 For all Religious Education and  Youth Group  Enrollment forms, and also Lector, Servers and Eucharistic Ministers Schedules. Please go to the Ministries Page
    !!!!! Check Photos out on the Photo Page!!!!
Click here to view the following announcements in this weeks  bulletin: items in green print are still current
Meatball Fundraiser for all the youth of our Parish on October 26th and 27th at all the Masses. Please support our youth and buy delicious subs @ $5 each.
All Saints Day Celebration October 27th after the 10:45am Mass.

Please come to Holy Mass dressed as your favorite Saint with a little note card to tell about your saint; then downstairs after mass for a little celebration party.

World Wide Marriage Encounter

The next Weekends is  Sept. 14 – 15 in Medway, MA. & Oct. 18 in LaConia, NH & Dec. 13 – 15, 2019 in Duxbury, MA.  For more information, call Stephen & Michelle O'Leary at 800-710-9963 or visit them at https://wwmema.org/.

One-Day Unbound Freedom in Christ Conference

Saturday, October 26, 2019
St. Andre Bessette Pastoral Center, 277 Union Ave, Laconia, NH
Presented live by local teams
Having difficulty forgiving/living in the Past; Feeling tied up and weighed down by circumstances?
Unbound helps people to lay hold of the freedom Christ won for them on the cross – Teaches 5 simple keys to break the chains of bondage & unlock the doors to freedom – Equips you to get free & stay free, & even help a friend to come into deeper relationship with God.
For more information; call 603-524-9609 or email Abbahealing center1@gmail.com

November 1st is the Feast of All Saints, a Holy day of Obligation. There will be mass @ St. Catherine's @ 9am & @ St. Joseph;s @ 7pm.
There will be a 2nd Collection on the weekend of November 2nd & 4th for the youth of St. Joseph's Parish. This collection will be used for events that the children will participate in. Thank you for your generosity!
From September 23rd to November 3rd, You're invited to join other Christians for 40 Days for Life – 40 days of prayer and fasting for an end to abortion.

You're also invited to stand & peacefully pray during a 40 day vigil in the public right of way outside Planned Parenthood, 24 Pennacook Street, Manchester, & also spread the word about this important community outreach. If you 'd like more information –  & especially if you'd like to volunteer to help,

please call 978-

226-3240 or email 40daysforlifemanchester@gmail.com or visit 40daysforlife.com/Manchester

Choose Life!

– Pathways Pregnancy Care Center is a Pro-Life Pregnancy Center in Littleton, NH open Monday – Wednesday 9am – 4pm. To make an appointment please call 603-444-3991. The address is 70 Redington Street, Littleton, NH 03561. God bless you!
St. Gianna's Place is now accepting Residents

Safe housing and support for pregnant women in need
Website stgiannasplace.org
Phone 603-521-8440

Liturgical Ministries: Please review the needs of our Ministry. If any of the following ministries interest you and you would like more information please contact the office

Music, Eucharistic, and Lectors